TornIRC Software
---
TornIRC is currently in the process of being updated. Until the new version is launched, we recommend that users download the most recent version of mIRC. We apologise for the inconvenience.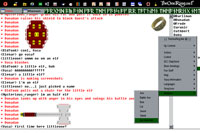 click for a closer view (122k)
TornIRC is a Tolkien related script with all the functions of the normal mIRC. Besides that, TornIRC offers a variety of new things! Greetings in 7 languages, including quenya, shortcuts to barliman's regulars map and photo gallery. Funny quotes on LOTR, story lines, and much more!
And the best, all these things can be seen in a completely awesome design based on TheOneRing.net and Lord of the Rings!
If you have any doubt of how to use and how to make advanced configuration enter the room #Mordor, where TornIRC was designed and created!
Screen Shots
---
Concept by:

Dune
JimTheHobbit
Mormegil
Strider
Susie

Main Creator:
TornIRC6 created by:
Assistant Creators:
Screen Design:
Font Design:
Contributors:

Calisuri
CharlisMS
Gandalf
Pippin_Took
Tookish

Pop-up Designers:

Dune
JimTheHobbit
Mormegil
Strider
Susie

Pop-up Contributors:

Amyd
Elendil
Gandalf
Gamgee
Halbarad
Jincey
LeH
Nazgyratu
Pipesmoke
Yavanna

Special Thanks to the people of #Mordor:

Anaith
Dune
JimtheHobbit
Mormegil
Scorba
Strider
Susie
Taran

Thanks to the PTB (Powers That Be):

Calisuri
Corvar
Tehanu
Xoanon

Special Thanks to:

JimTheHobbit
Peter Jackson
JimTheHobbits Girl Friend
Gandalf
Beer
Gryph
Jincey
Ball Park Hot Dogs....they plump when you cook them
Charliems
Red Hot Chili Peppers
Tookish
Tookish's Halle
Taran
Anaith
Christopher Tolkien
Calisuri
Spock
Gamgee
Nazfyratu
Weird Al
Dennis Leary
Barliman
André Linoge
Gandalf's weight problem
Giant Turky Legs
Pippin_Took
The Letter "M"
Scorba
The Cast from Buffy the Vampire Slayer
Senor Guidos (Mr. whiskers)
Nob
Mormegil's Schizophrenia
The_Pope
Elendil
Aunt Jimima's Sex Wax
Mr. Ducky
Charliems response to all of our questions "Leave me alone!!!!!!"
Tarans Penguin
Leo
Eminem
Frode
Bloodhound Gang (And all its fans at the discovery channel)
The man who invented popcorn
PipeSmoke
|Chief|
Thorongil
Balin
Rocky Horror Picture Show
Amyd
Jackie Chan
Summer Swim Suit Catalogue
Xoanon
Mc. Donalds
Alvie
The Irish Tabloids
Glaurung
Mormegil (the parrot, not the person)
Corvar
Tehanu
LinuX
Mobile Phones
The phrase "I see dead people"
Berendir
Little English Hobbits
MadMax
(and Arathorn :/)

And to Professor Tolkien who will always remain in our memories as the greatest Fantasy writer of all time

No Pixels were harmed during the making of this IRC......... ......To the best of our knowledge