[Click Here]
This camera will be refreshed every 30 seconds from the convention floor.
Dragon*Con's fan track 'JRR Tolkien's Middle-earth' returns for another exciting year! We've seen the movies and bought the t-shirts and are now once again ready to immerse ourselves in all things Middle-earth. As always, we've worked to bring the best of the best to Dragon*Con this year and hope you'll join us for our sessions and meet our special guests. We'll be based in the MarriottŐs Copenhagen Room (on the convention level) this year.
Click the link above for the latest and greatest programming schedule for the Tolkien Track at Dragon*Con 2005 in Atlanta GA. For more information on Dragon*Con, visit the website at http://www.DragonCon.org.
Programming schedule for the Tolkien Track at DragonCon 2005 in Atlanta GA. For more information on DragonCon, visit the website at http://www.DragonCon.org.
Updates for Aug. 25, 2005
---
Elfstone to bring LARP to Dragon*Con's Tolkien Track
8/25/05, 10:12 pm EST - Jincey


Over the years, we've had several sessions on miniature and PC gaming, but this year we're sharing a new (to the track) genre of gaming. We're very excited to welcome Mike Yow of Elfstone come to speak with us about the tremendously popular world of Live Action Role-Playing (LARP). [More]



Updates for Aug. 23, 2005
---
Emerald Rose to premiere new music at ELF and Dragon*Con
8/23/05, 10:14 pm EST - Jincey


New CD to be released at Evening at Bree party!

Emerald Rose has announced the completion of their newest cd, "Archives of Ages to Come", and they plan to release the cd at TORn's Evening at Bree party at Dragon*Con. The band will be premiering selections of the new material this weekend for audiences at the ELF gathering in Orlando.

Emerald Rose has performed for TORn fans at many LOTR events, including post-Oscar parties in Hollywood. This is the band's fifth cd, and their most musically diverse, ranging from traditional Celtic ballads and instrumentals to driving rock songs inspired by world mythology. [more]


Costuming Panel Leaders
8/23/05, 9:23 pm EST - Jincey


There's always great interest in Lord of the Rings related costuming, and we have the best of the best costumers here with us once again this year. I'd like to thank Laura Bradway for stepping in to lead this year's panels when Quimbie had to unexpectedly drop out of Dragon*Con this year.

The schedule is not showing the actual panelists for costuming (just not enough room), so here's who's going to be doing what: [more]





Updates for Sep. 12, 2003
---
Dragon*Con 2003 Kids Pictures Posted
9/12/03, 1:08 am EST - Jincey


One of the best experiences I had this year at Dragon*Con was the Kids Session during Tolkien's Middle-earth fan track. We had approximately 15 kids ranging in age from 2 1/2 to 8 participating. Kids spent an hour drawing pictures, having their faces painted, making Elvish brooches, getting 'Sharpie' tattoos of their name or initial on their arm, and snacking on 'lembas' and apple juice. It is wonderful to see a new generation of Tolkien fans coming up! [More]


Updates for Sep. 03, 2003
---
Dragon*Con 2003: That's All, Folks!
9/03/03, 8:48 pm EST - MrCere


ATLANTA - For perhaps 361 days a year, give-or-take, the people who attended Dragon Con 2003 live life a lot like everybody else. But for four days those passionate about fantasy, sci-fi or related genres enter what might be the closest thing to an alternate reality there is.

Two hotels and an estimated 26,000 guests create a new universe where "strange" dress, behavior, fanaticism and sleep paterns are the norm rather than the exception. Corsets and stormtroopers become so commonplace it seems as if something is missing upon return home.

Among Tolkienites, the internet has already shrunk the fan community, but there is simply no replacement for a friendly hug or handshake and a shared laugh between those who feel strongly about a book that is on the eve of its 50th anniversary. So, during your perusal of TORn's Dragon Con 2003 coverage, remember that perhaps the best moments are those that aren't news, that cannot be reported upon and which will never make a headline or a photo. DCon is about being part of a sometimes strange but almost always entertaining and friendly community.


Dragon*Con 2003: The Presentations
9/03/03, 8:46 pm EST - MrCere


ATLANTA - The Tolkien track at DCon is bigger than just TORn programming but TORn programming plays a significant part to be sure. As a reporter of events there, as well as a participant on occasion, I try to be objective, fair and honest. At the risk of sounding TORn-centric, there are things I must tell.

TORn friend Carlene Cordova and staffer Quickbeam gave a two-day, two-part report on their project "Ringers - Lord Of The Fans" starting on Saturday along with the Director of Photography Josh Mandel aka "Tan Pants". In the spirit of full openness I must disclose that I am a Unit Director (a guy who sends in footage) for the project but I attended the film's briefing intending to bring TORnados a informative report.

I knew there would be good information but if I may break into a momentary commentary and borrow one of Quickbeam's favorite
words: "brilliant!" You can find the movie's web site here: http://www.theonering.net/ringers/ and I had read it and looked forward to the panel, but hearing those working on it gush about their ideas and hopes at the Dragon Con event was inspiring. If nothing else these folks pour their passion into the project and I suspect that will be evident on-screen as well.

Their work is far from over with Mandel heading to the UK shortly and all the ROTK fan footage gearing up. Like any independent filmmakers, they are seeking funding - seeking it always but they are determined to continue in their efforts however they must.

The film's focus is of course Tolkien fans and on day one of the presentation they spoke of the beginnings of fandom and its first two decades of existence. "It is a penetrating glimpse into the explosion of fandom," according to Mandel. Quickbeam described it as, "Delicious, fun playfulness."

Day two was left to cover more modern fans and started with a look at Middle Earth at the dorms in the University of California Irvine. Back in the day fans named 24 dormitories after Tolkien's own geography and the area still stands as a monument on the campus of the "fightin' Aardvarks."

The audience was also favored with Mr. Spock's (Leonard Nimoy) rendition of "Bilbo Baggins", a real favorite on convention circuits but a song a lot of fans either don't know about or haven't seen. Amazing, vintage, wonderfully dated stuff.

The Tolkien events covered in day two included things like the publishing of "The Silmarillion" in 1977, the release of the animated "Hobbit" by Rankin/Bass, the Ralph Bakshi version of "The Lord Of The Rings" and the internet history of Tolkien fandom. Even TORn history was covered, beginning with the photo-essay page it used to be and Tehanu being charged with trespassing.

Perhaps most compelling was the "Ringers" preview showing some of the quickest bits of Tolkien fandom in their own words strung together to give a feel of the documentary the crew is working on. It was greeted with delight and left the crowd wanting more. The full future of the project is still unknown but at the very least it will play phenomenally well at conventions and in fandom circles but the filmmakers hope the appeal is wider. They hope that as a social commentary it will play to large audiences and that a major distributor will step in and give them added leverage.

In addition to the "Ringers" panel, Calisuri, Corvar, Maegwen and I all played a part in the hour long spoiler-filled look at "Return Of The King" and "The Two Towers" Extended Edition. That presentation to a "sold-out" room (the largest at DCon) both Friday and Saturday, coupled with our own senior staffer Jincey running the whole Tolkien tract, kept the web site in the mix of the community. This was a "had to be there" event but the audience appeared to be involved in the photos and commentary provided by staffers. As an aside, as much as I enjoyed the actual presentation, I enjoyed the in-the-hotel creation of the presentation even more. The staff folks, while not full-time Tolkien scholars, were a pleasure to listen to while theorizing about the films and the significance of each individual photo.


Dragon*Con 2003: Costumes!
9/03/03, 8:37 pm EST - MrCere


ATLANTA - One of the featured events at Dragon Con is constant parade of costumes. Sure the convention's official Masquerade is spectacular but the real show is the floor of the convention's two hotels. The creativity on display is head turning and pathway clogging. TORn managed to photograph a great number of costumes (hopefully posted soon) but even then we have just scratched the surface.

Lord Of The Rings fans can rest easy knowing that "our people" represented very well. The front entertainment page of the "Atlanta Journal Constitution" featured a group of fearsome orcs led by LOTR fan Brian Wolfe from Orlando. In addition, the teaser at the top of A1 that day also showed an orc, enticing readers to go inside.

Wolfe and his spectacularly nasty crew has been a LOTR fan for years. "I read the books. We saw the Hobbit on TV and watched it all the time as kids." Even among all the amazing costumes the crew of nine, a couple out of costume when TORn caught up with them, really were among the very elite.

Wolfe works in Orlando as a make-up artist at Universal Studios and calls the Peter Jackson films their collective favorite movie, and that is among film lovers. "These were something better. They set the standard. Like most good Tolkien fans he was awaiting the DVD at midnight and is a frequent visitor to TheOneRing.net. In the past Wolfe has done costumes based on Spawn, Mortal Combat and "musical" theatrical group Gwar. The friends have attended DCon for five consecutive years and travel from Florida, New York, North Carolina and anywhere else they need to in order to attend.

A group pictured in a fan report on TORn worked on their getups for seven months, all in anticipation for DCon. Julia (part of the Tolkien costume panel) and her husband Kevin - shown here as part of a group of friends - were also show-stoppers. Everybody from Klingons to Laura Croft wanted pictures with the group.

Toby Markham from Chicago attended Dcon in an amazing Sauron costume made by his own hand. "I always do Star Wars," he said. "The year I wanted to do something different." When fully suited up, Markham could only see out of the nose of his mask. "People get out of my way," he said. He is considering redoing his mask to allow for a flap on the back. His work is done in gapaxio for the detail and in aluminum in the broader pieces of armour. It goes without saying that once inside, it gets a bit hot.

More subtle were the extravagant Elvish gowns and sewn materials that dotted the fandom landscape. Explore the TORn scrapbook for an abundance of examples. TORn's official complaint: Where were the Hobbits people? There were a few but as a fandom we are pretty Elvicentric.

Saturday night was the official masquerade took a Lord Of The Rings introduction on video calling itself "The Masq of the Rade." Masters of Ceremony George Takai and Walter Kronig of Star Trek fame were funny, partly because they were so unaware of the content of most of the costumes and stumbled over many of the names, descriptions and hand-writing.

"Our" oft-mentioned Balrog with wings was in the official contest along with Nessa of The Valar and a trio of friends who were unfairly escorted off the stage by rotten storm troopers. The very good "twilight nazgul" with her own duplicate scream barely walked on stage when the troopers ended the fun. An Arwen also played part in a spoof along with Star Wars, Harry Potter and the Matrix. Arwen got to chase the HP people off the stage while the Matrix people were riffed on for cashing in.

Other highlights included the three faerie godmothers from Disney's "Cinderella", a perversion of my beloved "Monsters Inc.", Harvey Birdman, Aku and Samurai Jack from Cartoon Network's Adult Swim, the "most fearsome monster from 1978" Dungeons & Dragon's mindflayer (which won "best sci-fi"?!?! How is D&D sci-fi?!?!). There were also quality Borg, a wonderful 3,000 feather "Snow Queen" from the book of the same title and a rendition of stage play Grease's "Summer Nights" by a macabre group including Frankenstein and his bride.

Without a doubt, the most amazing costumes, in or out of the show was the complete monster group from Maurice Sendak's children's book "Where The Wild Things Are." As they slowly paraded onto the stage, the audience gasped, then clapped, then stood, then cheered. Hopefully between dead batteries and camera problems TORn will have a glimpse posted soon. The same group floored the public at the Hyatt later, putting security into a panic. Quite a spectacle. [More Masquerade Costumes]

For a comprehensive look at Dragon Con images, go to their homepage (http://www.dragoncon.com) and click on "Links And Photos" in the left column where the con posts photo links of all kinds at the con, eventually including TORn's coverage.


Updates for Sep. 01, 2003
---
DragonCon - The Party Never Ends
9/01/03, 4:34 am EST - MrCere


ATLANTA - The best thing about Dragon Con is that it never sleeps and the worst thing about Dragon Con is, naturally, that it never sleeps. We staffers are hopelessly behind in Con coverage and we are having trouble fitting writing in with presentations, give-aways, interacting with other fans, distributing buttons and having a little fun.

Fear not TORnados, full reports are on their way but DCon is winding down and after a little travel time the full monty will be delivered. Highlights include Brad Dourif, Elvish lessons, tons of Tolkien tract events, fantastic costuming and even TheOneRing.net presentations.

August has crept into September leaving us only a few short months until the force of nature that is "Return Of The King" is unleashed on us and the rest of the world. DCon has, if it is a good gauge of ROTK interest, shown that not only are Tolkien fans excited for the third film in the trilogy, but the rest of genre fantasy community has their blood in a boil in anticipation. Stay tuned for further reports!


Updates for Aug. 31, 2003
---
Day One Gallery
8/31/03, 10:16 am EST - Calisuri


Time is flying by as DragonCon 2003 continues here in Atlanta GA. On Saturday, we gave approximately 2000 people a 'unofficial' look at ROTK and plan to do so today at 4pm. We'll be posting reports from the happenings yesterday in a short while. In the meantime, check out Day One's gallery! [Gallery]



Updates for Aug. 30, 2003
---
An Evening at Bree
8/30/03, 8:48 am EST - MrCere


Panels, discussions and presentations might be the feast that keeps a con-goer alive, but it is the social desert that makes Dragon Con so rich. The Tolkien clan partied in the Centennial Ballroom in the Hyatt hotel in an event dubbed "The Night Of Bree."

TORn's own Jincey serves as DCon's Tolkien themed programming faciltator (called the Tolkien tract) and although she had the unenviable task of announcing that John Rhys-Davies could not attend, she also had the pleasure of leading "Bree" in its celebrations.

With the help of Emerald Rose - of TORn Oscar Party fame - the festivities kicked off with dancing and general merry-making. Between sets, costuming fans trotted out some fantasticly detailed getups. Elves seemed the most popular, splitting the costume contest into a division of Middle-Earth's immortals and the rest of the good professor's characters. While TORn users were well represented, there were other Tolkien fans present, leaving all an opportunity to rub shoulders and compare handywork.

Musical sets alternated with contests and breathers giving Bree the perfect balance of fun. Captain American stopped by to battle evil along with other costumed luminaries who craved the party atmosphere.

Judges, including TORn's own Calisuri, had a difficult time making final decisions, leaving the audience and costumers alike on pins and needles. Kell Yarwood of Memphis won the Elvish prize for her detailed Arwen dress. She hauled in a Sideshow Toys/WETA statue for her trouble. John (John-of-the-night) Day from Orlando took second with his Elvish archer costume while Beth (LadyStar) Robinson from Michigan managed third for her Arwen outfit.

In the "other" category which was more wide open and even more difficult to judge, an Aragorn/Frodo combo displayed by Dion Rupa (New York) and Heather Dunningham (Santa Cruz) took the top prize. Beth (LOTR42) McCullers from Mephis wrapped up 2nd place with her rendition of a fighting Uruk-Hai that would have done Richard Taylor proud. Third Place was secured by Gayle Klar from Savannah with her Balrog costume with extending wings...let the debating begin. An honorable mention was also given for an adorable dancing "Rosie Cotton" portrayed by Tracey (IridescentGrrly) Cook from Huntsville. Please see the TORn Dragon Con scrapbook for these and other photos of the night of Middle-Earth magic.

Rumors of TORn taking the party to a karaoke-friendly establishment and singing "I am A Man Of Constant Sorrow," can neither be confirmed or denied.


DragonCon: ROTK IMAX? ROTK AFI?
8/30/03, 8:41 am EST - MrCere


ATLANTA - A source has revealed that there is likely to be an IMAX version of "Return Of The King" in the works, brokered as part of a deal for IMAX editions of this year's two "Matrix" movies. Working in the same process used to convert Disney's "Beauty And The Beast" the film would require an intermission because of the larger film size and projection equipment used to show the gigantic-screen movies. "Spysquid," who has connections to the projection industry described his knowledge of the IMAX negotiations as "very reliable."

Atlanta's IMAX, located in The Mall of Georgia, is viewed as a national showcase for the IMAX format films. IMAX films because of film size, require an intermission just after the two-hour mark, putting the expected three-hour plus ROTK film far into intermission territory. AOL/Time Warner own New Line Cinema, the parent company of the LOTR films and Warner Brothers, the company that produced the Matrix trilogy. TORn will continue to follow this possible story.

Meanwhile the new American Film Institute theater in Maryland, is hoping that an event being sold to AFI members on December 5 is a screening of "Return Of The King," according to Alex Tarrand who works at the theater. The event is currently listed as "Lord Of The Rings" and might be the FOTR EE screening. The theater which opened in April is in Silver Spring Maryland and sells tickets to the general public but this hoped-for event is available to members only. Memberships are approximately $30 a year, according to Tarrand.


Friday Overview - Appetite Wetted for Weekend
8/30/03, 8:38 am EST - MrCere


ATLANTA - Dragon Con is in full swing now and TheOneRing.net and the gaggle of J.R.R. Tolkien fans in attendance quickly made a mark. This is a hard-core geek-fest at its finest and genre fans attacked the event with all the passion of a Hobbit in a buffet line.

The TORn booth is nestled near the dealer room in the bowels of the Marriott in downtown Atlanta. Two of the four site founders - Calisuri and Corvar - along with a solid backing of staff were on hand to greet fans, distribute free buttons, sell TORn shirts and let people know about its upcoming, unofficial preview of "Return Of The King," scheduled for Saturday and Sunday.

Dragon Con, grown from a group of 1,400 fans in 1987, and expanded to a crowd expected to exceed 20,000 this year, fills to bursting the two hotels in downtown where various branches of the "fantasy tree" cross twigs and interests. TORn's downtown offices, perched high above the beautiful city and the "hollow" interior of the hotel, will be bringing full daily reports along with live web cam shots all weekend long. Check the TORn Dragon Con scrapbook for a collection of images of the colorful conglomeration of fans devoted to the darkest and seemingly most forgotten corners of the genre house.

Houghton-Mifflin, who publishes the Tolkien works, had a special treat for fans who were willing to take time to fill out a reader survey at the TORn booth. Just a few minutes of writing earned old veterans and newbies alike with a Elijah Wood photo cover of "The Fellowship Of The RIng." If you haven't been paying attention, HM just released its final movie tie in book for "Lord Of The Rings." The soft back all-in-one is a the beautiful edition with fold out maps and the movie photo of the One Ring on Sauron's mailed fist.

Friday's brightest star in the Tolkien universe, John Rhys-Davis, couldn't make the show, although at posting time the reasons were unknown. Fans still had plenty to keep them busy Friday with lessons in Elvish, serious Tolkien discussions and impromptu entertainment by Quickbeam and other convention assistants. Discussion of the proposed big-stage Tolkien musical led into nostalgic and amusing renditions of the Rankin/Bass tune "Where There Is a Whip."

While mixing with fans, professionals and exhibitors, TORn uncovered a few precious rumours and secrets - all of which we will share - concerning the upcoming ROTK releases and the Tolkien Universe. Read other Dragon Con reports for details. Wish you were here...


Updates for Aug. 29, 2003
---
LIVE! We're up and running!
8/29/03, 10:42 am EST - Calisuri


On behalf of the entire TheOneRing.net staff, Welcome to DragonCon 2003 LIVE from Atlanta GA. Throughout the next few days, we'll have a LIVE webcam broadcasting on our DragonCon page, as well as image galleries and reports from the convention floor. Stay tuned for more!


Updates for Aug. 24, 2003
---
Costuming Panels have Great Line-up of Handmade LOTR Costumes
8/24/03, 10:07 am EST - Jincey


We have two costuming panels in store for you this year and each one will have different examples of costumes from the movies. These costumes have been made by fans with a deep love of LOTR and wonderful talents in the field of costuming. Here's what is on the slate for these two [sessions].


Updates for Aug. 16, 2003
---
News from last year's Dragon*Con
8/16/03, 5:52 pm EST - weetanya


Below, read news and see pictures from last year's Dragon*Con. Above will be events from Dragon*Con 2003.
---
---
Updates for Sep. 04, 2002
---
Targa's Dragon*Con Pix
9/04/02, 11:25 pm EST - Jincey


Targa (you remember him, the tall guy in the glasses?) spent a good deal of time with us in the Tolkien track, and stopped in Barlimans tonight to let everyone know he's posted his Dragon*Con 2002 [pictures]. If you have any cool Tolkien track or TORN related pictures, please email jincey!




Updates for Sep. 02, 2002
---
DragonCon 2002 - Sunday
9/02/02, 3:13 am EST - Tehanu

Fans, Friends and Fun
Day three of the Con was the biggest yet. I pity any unsuspecting hotel guest who chose this weekend to stay at either of these hotels, unless they happened to be broad-minded and loved science fiction and fantasy. For us, we loved the endless parade of mind-boggling costumes that passed our table. Most of us haven't had time to visit any exhibits or talks outside of the Tolkien track events, but just watching the other attendees walk past was all the entertainment we needed. Besides, spending all day chatting to Tolkien fans is not a bad way to pass time. We had a laptop set up on the table playing the preview and that would act like a magnet, and there'd always be a laugh of delight when we pointed out the moment where Treebeard blinks. It's always great to see people watching it for the first time - their jaws drop. We gave away copies of the Fellowship to kids who looked sufficiently excited about the whole thing. Especially ones dressed as Harry Potter or as young Jedi who were ready to take on a new adventure. I envied them having the Fellowship to read for the first time.
We had bookmarks to give away - some of them official art generously provided by Houghton Mifflin, but we also had eight designs given to us by TORN fan artists. People loved them and we watched our stacks of bookmarks get smaller and smaller all day.
We closed the day's activities at the table with a raffle drawing which drew a huge crowd. We had some Houghton Mifflin books and some of our t-shirts to give away. The remainder of give-aways were decided by asking H-M'strivia questions to the people who were left until they'd won everything.
Better late than never - we can announce the winner of our costume competition on Friday night. First place, Lord of the Nazgul, went to Joseph Kiser, who had a great costume and suitably threatening hiss. Second place went to Andy Myers, an uncanny double for Dominic Monaghan whose costume was carefully made. Third prize went to Kathleen Myers, as Aragorn's mother Gilraen. Overall (and this was something that I noticed about everyone in costume thoughout the convention) one of the challenges that would make or break the 'believability' of the costume was their ability to move and gesture appropriately.
Tom Shippey, author of "Tolkien: Author of the Century" gave a second lecture. This one concentrated less on the link between philology and story-telling and more on what he called the group of 'one-off' writers like Tolkien, Orwell, Vonnegut, Lewis and Graves who were traumatised by war and each wrote books that were completely unlike the mainstream in literature - they wrote fantasies that tried to figure out what the authors saw as the evils of the twentieth century. If we'd had more time the talk would have continued on with a group discussion on the nature of evil and morality. Which I would venture to suggest was not something that being discussed in many of the other tracks at the convention.
Shippey was a great speaker who laced his enormously learned discourse with great wit and a store of fascinating stories about his connections with Tolkien, C. S Lewis, and the institution of Oxford University.
TORN Digital did an interview with Tom which will appear on this site at a later date. Quickbeam asked him whether he was a Tolkien apologist and Shippey said he would go further and call himself a Tolkien polemic.
There was a very popular talk on arms and armour presented by Joe Piela of Lonely Mountain Forge. He had an impressive array of extremely realistic (and well-worn) weapons and armour. He talked about the way the re-enactment people have discovered, through building and using the ancient weapons, how people must have fought. The shape of the weapon and the armour determines what is possible for the fighter in question. What was very clever was the way he kept referring it back to Tolkien's writing about warfare. For instance Tolkien described how the riders of Rohan used their spears to skewer the orcs they attacked - and now people who've used a horse and spear in modern re-enactments are able to testify how much power an armed rider has to overwhelm footsoldiers in exactly that way. Joe could refer to a section in Tolkien, pull out the armour or weapon to illustrate it, and describe exactly how it was used.
Later, the 'Elvish 101" course was totally full as well - in fact they had to present the talk twice to fit everyone in. Since the movie came out, so many more people are able to appreciate how beautiful Elvish sound, and there is a hunger to learn more.
Saulone from the TORN community site There And Back Again was very popular - like every other Tolkien Track event it was full. Saulone gave a potted history of how TABA came to exist. He talked about vector versus non-vector art - the fluid lines of his site are very much what he would call non-vector. It is not mathematically-based. Saulone wanted to build a site using non-vector art.
SPOILER WARNING FOR THE NEXT PARAGRAPH
Due to high demand (YAY) we were moved into a large ballroom in order to give our "Behind the Scenes at TTT" talk. The fans were more interactive and heckled Calisuri over Saruman's death on the Wizard Kebab scene, even though as he pointed out, there's no point shooting the messenger. We checked the approval rating for the first film and the casting in the first film, and got the usual hysteria over Legolas. Hey, I stir it up!
Thanks have to go to Ginger, Stefan and Allen who worked tirelessly to get the Greenbriars room set up for each speaker and to provide them with everything they needed. Next year we have been tipped to get a bigger room.
Thanks also go to Jessica who got us great seats in the Masquerade, the eye-boggling costume contest which crowned the evening.
We'd like to thank all the fans that dropped by and said how much they loved our site - some of them were even wearing our TORN t-shirts.
------
Sorry we didn't post any images up with today's report. The hour was getting late and we ended up using a digital projector in our hotel room and watching FOTR. Look for loads of images tomorrow for the final day of DragonCon.
Updates for Sep. 01, 2002
---
DragonCon 2002 - Saturday
9/01/02, 3:01 am EST - Tehanu

TORNs Big day at DCon
After a succesful presentation, the TORn staff went out on the town. So Mhuirrich, a great friend and helper for the site, offered to write today's report. Hope you enjoy!
DragonCon Day 3 Report
by Mhuirrich
Hah! They gave me the keys to the editor. I'm thinking they won't make that mistake again.
Saturday arrived bright and early, with your faithful TORN staff waking bright-eyed and bushy-tailed just moments after the first rose-tinted rays of the sun peeked over the tops of the Misty, err, Skyscrapers. OK, I'm sorry, I can't lie to you guys. I woke up late, feeling like I'd been on the recieving end of a Lurtz temper tantrum. Never play drining games with Dwarfs and Klingons. In any event, I was far better than Calisuri, who actually woke looking as if he'd just popped out of a Uruk-Hai birth pod. Perhaps it was my snoring.
Nevertheless, after a few minutes spent making our various baths imitate fountains leaping on high, we cleansed our self-inflicted ills with a liberal dose of Kingsfoil, as the rustics name it, or athelas in the noble tongue, or to those who know somewhat of the Valinorean... err, I digress. After a refreshing bit of asëa aranion, we were off to the Convention floor and Tolkien Track room. I feel the need to tell you that Calisuri still had a screaming case of the Black Breath.
First up for the day was a marvelous presentation by Ellen Denham and Stephen Laurent. They have developed a dance project inspired by the story of Beren and Luthien. Pending approval from the Tolkien Estate, they hope to present it in April, 2003, using the forces of the Butler Ballet, the pre-professional dance company of Butler University.
While Tolkien Track director Jincey (ably assisted by Tehanu and Asfaloth) held down the fort in the Greenbriar Room, the rest of us prepared to meet the countless millions..... and millions... of Tolkien fans who trooped by our TORN fan table. It's always a treat to see the looks on folks faces when they see a great trailer or spoiler pic for the first (or frequently, hundred and first) time! All manner of Elves and Hobbits stopped by to meet and greet, and good times (as well as learned discussion and a great deal of general rumor-mongering) were had by all and sundry.
Back in the Greenbriar, Leeds University Professor and renowed Tolkien scholar Tom Shippey spoke about philology (the science of language) and how Tolkien's works and study in the field fired his imagination and led him to create the world which we have all come to love so much. Tom's talk was very detailed and presented a wealth of information that any Tolkien fan would find fascinating.
One highlight of the day for the TORN staff was the belated arrival of the immensly popular Cliff "Quickbeam" Broadway. Although somewhat hobbled by a leg injury suffered during the storming of Isengard (I admit that's a cover story, he made me promise, on the Precious no less, never to tell what he was really doing with those Entwives last night), the Beamster's mega-watt grin and irrepressible humor quickly infected the staff, which is far better than being infected by Cal's breath.
Quickbeam's behind-the-scenes look at the making of Universal Interactive's series of Middle-Earth based games (for X-Box, PS2, GameBoy Advance and PC) was a great introduction to the dedication and talent Cliff and his fellow Tolkien afficianados bring to the table in the re-creation of Middle-Earth in interactive form. Also of great interest to Tolkaholics was the session on Elvish hosted by experts Paul Dunne and Jeff Sherril.
At 4:00 PM the moment for which all had been waiting arrived. Corvar started break-dancing! All kidding aside, the TORN presentation was a hit (of course). Three thousand Con attendees packed the Centenial Ballroom for an incredible behind-the-scenes report on The Two Towers, presented by our very own Calisuri, Corvar and Tehanu. Our interepid trio showed a great trailer as well as many never before seen pics, and related a lot of new information about the storyline. The fans went absolutely wild for the 4 foot high, 8 foot wide brilliant red neon "SPOILER ALERT" sign that flashed every 4.6 seconds. Those fans who couldn't make the presentation joined me at the TORN table, where we watched the First Age battle scene from FOTR 387 times in a row. In slow motion.
Finally, the Greenbriar Room hosted master metalsmith and historical re-enactor Joe Piella of Lonely Mountain Forge, who wowed attendees with his innovative creations and personal vision of the arms and armor of Middle-Earth.
Now, lest you think attendance at DragonCon is all work and no play, picture this scene: Champions Grill and Sportsbar presents Middle-Earth's finest (and only) non-professional traveling circus sideshow bowling team, the TORNados, in their first public appearance (as The Soggy Bottom Boys and Gals), regaling an appreciative audience with their pitch perfect and melodeously harmonic rendition of "Man of Constant Sorrow". Try not to cringe when thinking about it. Of course, you haven't really lived until you've experienced the mesmerizing, dulcet tones of the Beam-man's version of Soft Cells "Tainted Love". No, Sreally. I mean that in the nicest way.
Well, that about wraps it up for this evening. I've slaved away at the keyboard whilst the others are cruising the goths at some shindig or other, and it's past my bedtime. Maybe if I'm snoring when Cal gets back he won't be able to sleep and he'll look like the Balrog tommorow.
Please direct any comments to:
neverlettmhuirrichwriteanythingagainaslongashelives@theonering.net.
love ya
mhuirrich
Day 3 Photo Gallery (taken by Calisuri, Saulone, Andy, others...l)
- Pictures of general Fan Table crowd, prize winners, TORn presentaiton crowd and activity and much more!
Updates for Aug. 31, 2002
---
DragonCon 2002 - Friday
8/31/02, 2:10 am EST - Tehanu


Somewhere behind the fog, the sun rose in Atlanta. The TORN staff rose considerably later...Today DragonCon started to fill up with guests, though we ain't seen nothing yet, if I can believe what the others. Today we had a table to look after on a busy corner of the lobby where the whole Con world walked past, sooner or later. First we had to move a mountain of books that Houghton Mifflin had kindly donated - which we have the pleasure of raffling away for the next few days. It turns out that you can decorate any room to look great with enough Lord of the Rings books. Soon we had a dull grey conference room looking about as Tolkien-esque as it possibly could, with posters, books, banners and standees. Aragorn and Legolas of course...usually there'd be a few women jockeying for position to stand in his line of sight.

We split our troops so that some of us minded the table while others did the Tolkien Track over at the Hyatt. The table, well, we were running the Two Towers preview looped on a laptop, and that acted as the perfect bait to peel the Tolkien fans away from the pulsating mass of diverse and unlikely fauna that makes up a DragonCon crowd. That was fun - just chatting to Tolkien fans from all round the country, and giving away the great selection of bookmarks we'd made out of the best fan art that we'd received on the TORN fan art section. Saulone of our community site had his laptop set up to show the latest developments on his beautiful There and Back Again site, and it was fun showing people around his site.

Jincey started things off in the Tolkien track room with her the 'Welcome to Middle-earth' presentation, which centered on the Houghton Mifflin "Making Of" documentary, which was on the DVD 'extras' which a lot of you will have seen already, but there were a few people in the room who hadn't seen it, including a group of green leaf-covered tree people.

During the day a huge box arrived full of the new TORN bowling shirts for the TORN staff. Since then Calisuri has turned into the medium-sized Lebowski,going "Dude" with every second sentence. They are GREAT bowling shirts. We have to say thanks to BowlingShirt.com for those. Now we all match. New helper on the Staff is Drew, one of Corvar's workmates, who looks like a clone of Xoanon. Bizarre. Next year we could hold a 'TORN staff lookalike' contest and Drew would win.

Corvar, Saulone and Calisuri talked to a crowd of fans just large enough lose Calisuri's bet, about 'How to run a successful Tolkien website.' Evidently more than 10 people care.

"Glass Hammer" showed some music vidoes from their Middle Earth album.

That was followed by 'An Evening in Bree,' which attracted way more people than would fit in the room we were assigned, which we'd set up with a nice fireplace and a sign from the Prancing Pony, so it was a shame in some ways that we had to move, but there was no way that crowd would fit in there. The DragonCon organizers allowed us to move into a large lobby. Pretty soon Celtic band Emerald Rose were playing and groups of young Elves and Hobbits were dancing a lively Springle-ring. I fantasized that we would manage to subvert some passing Storm Troopers and kidnap them into a Springle-ring, but it seems they may have been off doing their Million Trooper March (in full costume) to Hard Rock Cafe or something because we didn't see them around. Lots of Pern and Wheel of Time people seemed to enjoy the Bree event though.

We held a costume contest, judged by myself, Joe Piela of Lonely Mountain Forge, and Steve Babbs of Glass Hammer. Lots of great costumes, but the winning prizes went to a great Nazgul, a Merry, and a woman who went as Aragorn's mother Gilraen. We'll announce winners tomorrow if I can find the bit of paper......

Check out the pictures in our Two Galleries:

Day 2 Photo Gallery (taken by Asfaloth)
- General DragonCon, Atlanta and other photos

Day 2 Photo Gallery (taken by Calisuri, Saulone, Bill)
- Pictures of general DCon crowd, TORnado Bowling Shirts and the contestents in the 'Evening in Bree' Costume Contest.



Updates for Aug. 30, 2002
---
DragonCon 2002 - Day 01
8/30/02, 2:14 am EST - Tehanu


News kind of slow on the site? Well, no, because our news staff are doing a fantastic job of manning the news side of things while the rest of the TORN Powers that Be are whooping it up at that Mecca for all things fantastic and science fictional known as DragonCon, along with chatroom queen Jincey, Corvar's Other Brain called Andy, Asfaloth who did so much to make the TORN Oscars party a success, and Saulone from our community site There and Back Again.

The convention seems to be dominating two gigantic hotels in central Atlanta - the Hyatt and the Marriot Marquis. These places have a feverishly neo-neo architecture that suits the SF stream perfectly, though it's less suited to fantasy. Tonight it's just a chaos of people checking in and setting up, some of them dressed as storm troopers. We've already met a great Arwen look-alike in full costume, though, and we hope to see more Tolkien-inspired costumes during the course of the convention.

Tomorrow the real work starts and for most of the weekend we'll be meeting and greeting Tolkien fans as well as making our own presentations. There's a gigantic pile of books, toys and TORN cards and bookmarks (designed by the fans!) taking up a lot of space in our hotel rooms - by Monday it'll be gone.

Til then we're just getting over our long flights by hanging out at the bar, admiring the people (at conventions like this you tend to look at people's t-shirts before their faces, to check out if they'll have some slogan that tells you what KIND of a fan they are) and enjoying Calisuri's karaoke.

Look for our next report as the festivities continue tomorrow!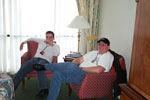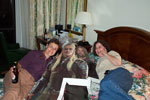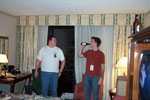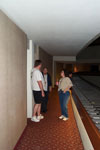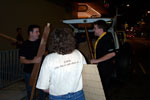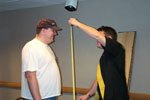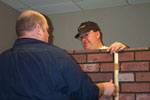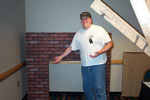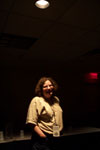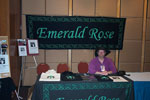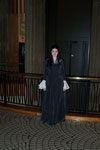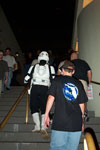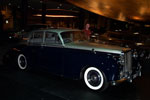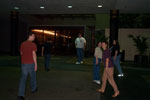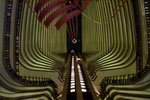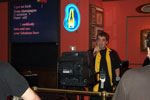 Updates for Aug. 27, 2002
---
Dragon*Con Swiftly Approaches!
8/27/02, 1:23 am EST - Jincey


I'm sure everyone's heard by now that America's largest FAN-run sci-fi/fantasy convention, is once again descending upon Atlanta, GA this weekend (Fri Aug 29 - Mon Sept 2)! Here's a brief line-up of the JRR Tolkien: Welcome to Middle-earth fan track to be held in the Greenbriar Room at the Atlanta Hyatt Regency: [More]


Updates for Aug. 25, 2002
---
Glass Hammer Presents Latest Videos
8/25/02, 3:10 pm EST - Jincey


For the third year we are pleased to announce we will be having a Glass Hammer presence. This year Steve Babb joins us to talk about how Tolkien has influenced his life as an artist. Steve is the bassist \ vocalist \ keyboardist for Glass Hammer, and writes the majority of the group's lyrics. Steve will present Glass Hammer's latest videos: "The Way To Her Heart" and "Mirkwood". [More]


Updates for Aug. 22, 2002
---
Arms & Armor in Middle-earth
8/22/02, 12:23 am EST - Jincey


What did the swords, armour, and other fighting equipment of Middle Earth really look like? The object of this session is to explore this topic by referring to the extensive descriptions that Tolkien gave in his many Middle-earth writings. Those attending will get to see and touch a selection of Middle-earth arms & armour reconstructions hand made by Joe Piela, master metalsmith and historical reenactor. He will bring items such as helms, mail coats, swords, axes, bows, and shields, made at [The Lonely Mountain Forge], for this presentation. (Saturday, 8/31 5:30 pm and Sunday, 9/1 10 am)



Updates for Aug. 21, 2002
---
TheOneRing.net Webmasters: How to Run a Successful Website
8/21/02, 11:50 pm EST - Jincey


The webmasters of [theonering.net] and [thereandbackagain.net] discuss creating and promoting Tolkien websites. They'll touch upon what the online Tolkien community is like, and how being Tolkien webmasters has touched their lives. (Friday, Aug 30, 4 pm) [Schedule]




Updates for Aug. 18, 2002
---
Gaming in Middle-earth
8/18/02, 11:56 pm EST - Jincey


Ok folks, let's face it ; ) There are a lot of serious gamers out there! There has also been a serious dearth of LOTR inspired games for many years. Now that The Fellowship of the Ring is out, we've been treated to many new games in several genres. In light of all the enthusiasm out there, we've asked several folks in to give us the latest information on their games: what they are, how they are played, what kind of tournament action is available, collector's information, and perhaps even some demonstrations and tips. We hope you'll drop by one of our gaming sessions and see what exciting new games are out there. [More]



Updates for Aug. 15, 2002
---
You're Invited To Our Evening in Bree!
8/15/02, 11:21 pm EST - Jincey


Barliman is throwing a party at his famous Prancing Pony in the village of Bree and YOU'RE invited! Food, good cheer, live music, and Middle Earth giveaways are on the menu for the evening of August 30th at Dragon*Con! There will be a costume contest with 1st, 2nd, and 3rd place prizes of Sideshow-WETA Lord of the Rings Polystone Figures! Random drawings will be made throughout the evening for Glasshammer CDs, Decipher LOTR RPG and TCG Starter Sets, a LOTR DVD, and other REALLY nice Middle Earth treasures!

So, take the Great East Road to Bree at DragonCon and join us at The Prancing Pony for Barliman's own EVENING IN BREE! (Psst...if you come in costume, you will get TWO tickets for the random drawings!)


Welcome to the Official Webpage of Dragon*con's JRR Tolkien's Middle-earth Fan Track!
8/15/02, 8:29 pm EST - Jincey


Welcome to Tolkien's Middle-earth! We've got a fantastic schedule of events lined up this year and hope you'll drop by to visit. We are welcoming back the founders of TheOneRing.net and our Elvish lingustics experts, as well as introducing many new sessions, including one about the new ballet based upon the story of Beren and Luthien. We'll be posting more information on the specific sessions as soon as possible. Up-to-date schedule information for this programming track can be found [here].

To borrow a term from TheOneRing.net, this track is forged by fans for fans. We'd not be able to do it without you! If you have suggestions for a panel topic or programming event that you'd like to see at the track, or would like to participate in one of the panels, we want to hear from you. Just e-mail Jincey with your thoughts.