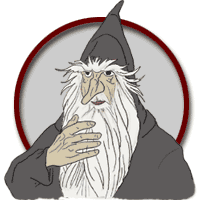 "I have grave fears, for the One is lost, and the Three are missing also. And if the news from the Lonely Mountain is true, they are searching there for the Seven. For all my powers, I can see only that TheOneRing.net™ is at the bottom of it all."
"We know that Gollum searches for the One. And we must follow him, for where the Rings are concerned, his instincts are finely tuned and his senses keen. He hits very near the mark when he accuses Calisuri of hoarding all the rings of power."
"Help us find the missing Rings, friend. For Smeagol's desire is great and it drives him to great speed in his search. Even were Shadowfax to bear me across all the pages of TheOneRing.net™, still he might best us. Do not let the Rings fall into his hands!"
"The Istari can reward you for your aid. Although we do not ourselves understand the lure of winning TheOneRing.net™ T-shirts or copies of "The Hobbit," we will give the finders of the lesser Rings these tokens of our gratitude. And the first person to find TheOneRing on the site will surely merit no less a prize than a silver copy from Badali Jewelry of the One Ring."